Luxury Redefined
As the only independent Five-Diamond property in New York City and the only one in our storied SoHo neighborhood, The Dominick offers guests luxurious amenities with unobtrusive service to match. At your service 24 hours a day, feel a sense of welcoming sophistication and mindful attention to detail befitting our one-of-a-kind hotel.
Housekeeping services
Multi-lingual associate team
Overnight laundry and dry cleaning
Dogs up to 25lbs ($250 fee, incl. pet amenities)
Seasonal outdoor pool & terrace
Full service business center 
On-site security system and staff
In-room dining
Valet parking and 24-hour doormen
All amenities and common areas are ADA accessible, including but not limited to: entrance, front desk, restaurants, pool, and guest rooms. For more information, please visit the hotel's accessibility statement here.
VIRTUAL HOTEL TOUR
Available on IOS & Android
Download
our app
Sustainability
In 2019, The Dominick, became the second property in NYC to receive the Green Seal Bronze certification, an acknowledgement of its commitment to sustainable, efficient and recyclable services.
As part of the hotel's commitment all major heating, ventilating and air-conditioning units follow schedules, which allows for decreased energy consumption; 90 per cent of lighting has been switched from halogen or fluorescent to LED, which has decreased heat emissions from 80 per cent to about 10 per cent; and a food-waste management system funnels refuse into Manhattan's sewage, reducing landfill waste.
The food waste system is run by ORCA, touted as the leading technology in environmentally friendly waste management. It works by using air, along with water and microbiology to turn food waste into an environmentally safe liquid.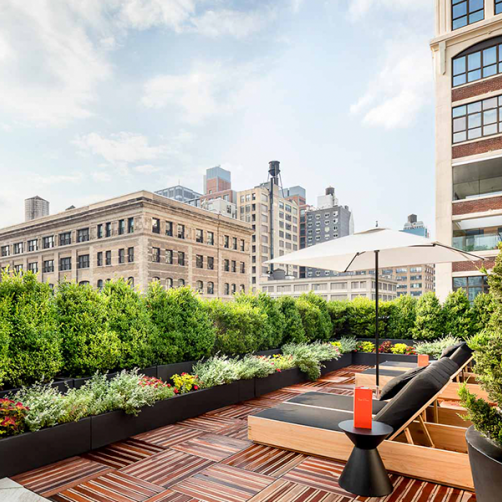 Included in your Destination Fee:
A daily Destination Fee (plus applicable city and state taxes) of $40 USD will be added to all reservations.
The hotel's Destination Fee includes:

o $25 credit to the in-room private bar
o Daily in-room coffee and tea station
o Complimentary bottled water on arrival
o Access to the 24-Hour Fitness Center
o Complimentary shoeshine
o Pool access with lounge chairs and towels. Reservations required.(Open May 27th)
o Digital newspapers
o First-tier high-speed Wi-Fi
o Local and domestic phone calls