Say Aloha To Your Summer Retreat
Terrace on 7 features El Ta'koy, our indoor-outdoor bar and restaurant and an adjacent, seasonal pool terrace. TO7 is the perfect social setting with an abundance of plush outdoor seating arrangements and lush greenery, including guest pool loungers and offset cabanas.
El Takoy delivers a modern Asian-Hawaiian gastronomic experience from Chef Luis Pous set to transport guests to the shores of Hawaii with a destination-inspired design palette. 
Relax serene surroundings, delicious fare, hand-crafted cocktails, and stunning views of the Soho skyline.
El Ta'Koy and the pool terrace will re-open Friday, May 27th!
El Ta'Koy
Delight over tuna & caviar taquitos or an equally decadent and fun cocktails like the signature 'Queen's Bath' or a spicy take on a classic espresso martini.
El Ta'Koy offers guests an abundance of outdoor drinking and ding spaces accented by plush seating arrangements and ample greenery, including an offset lounge area with cabanas. Please note pool, lounger & cabana use are available for the exclusive use of hotel guests.
Inquiries: eltakoy@thedominick.com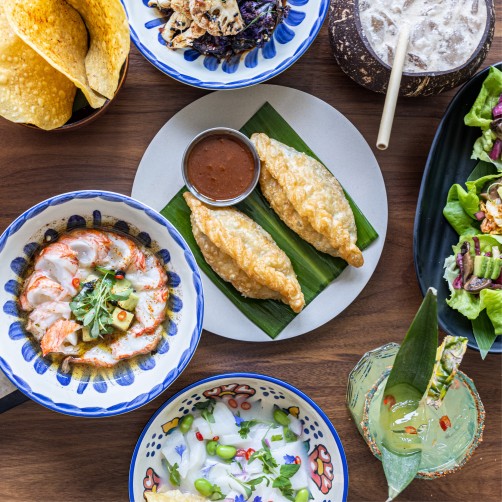 Cabanas
Terrace on 7 Cabanas feature comfortable lounge seating for up to six people. Cabana reservations include complimentary WiFi, mineral water, scented towels, and fresh fruit.
Please note that the four cabanas are offered on a complimentary basis to hotel guests each morning. Beginning at 12:00pm each day, reservations are required and rental fees along with minimum food and beverage spends apply. Food and beverage packages as well as an a la carte menu selections are available through El Ta'koy and may be ordered in advance.
Pool Loungers
Pool loungers are offered on a first come, first reserved basis.
Please note that a select number of loungers are available.